Located In western Aveyron, in the heart of Rouergue, in a famous for its gastronomy and its varied landscapes department, the two cottages are situated between Rignac and Bournazel in a locality named Cavagnac.
The furnished accommodation for 4 people 47m2 was renovated in 2010 and it has 2 star at the prefecture in late 2011.  It is located in the center of the old family mill.It has been transformed over the last thirty years into a house; Until the early 70s, the mill operated through a turbine driven by The Cavagnac Lake of 52 acres located just a few meters above.
The apartment of 42m2 has just been renovated in 2012, it has 3 stars (out of 3) by the Departmental Tourism Committee in July 2012,it is located on the ground floor at street level, with superb overlooking the stunning Cavagnac Lake   kitchen side.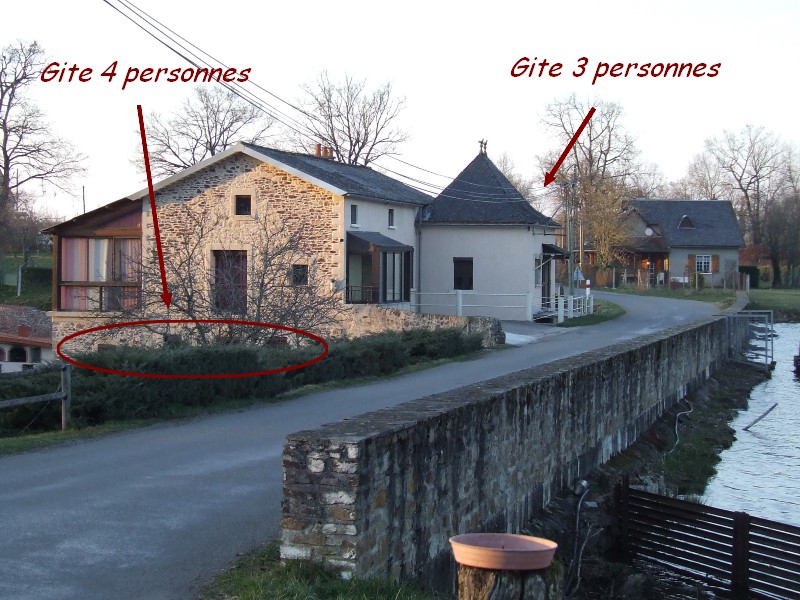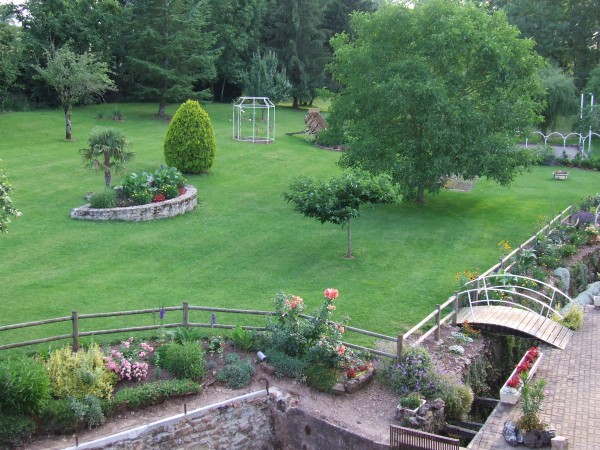 Cottage to accommodate 4 people.
This cottage is located on the 1st floor of the old mill, ideal for a couple with children.  Access is either through a staircase leading to a small courtyard where the entrance of the house or simply access the ground floor through the north side of the house.
It consists of a large room with kitchen, living room, dining room, comfort: equipped with refrigerator, dishwasher, washing machine, small oven, microwave, coffee maker, toaster, TV, DVD player, VCR, table and chairs, 2 seater sofa, iron and ironing board, vacuum cleaner, kitchen utensils.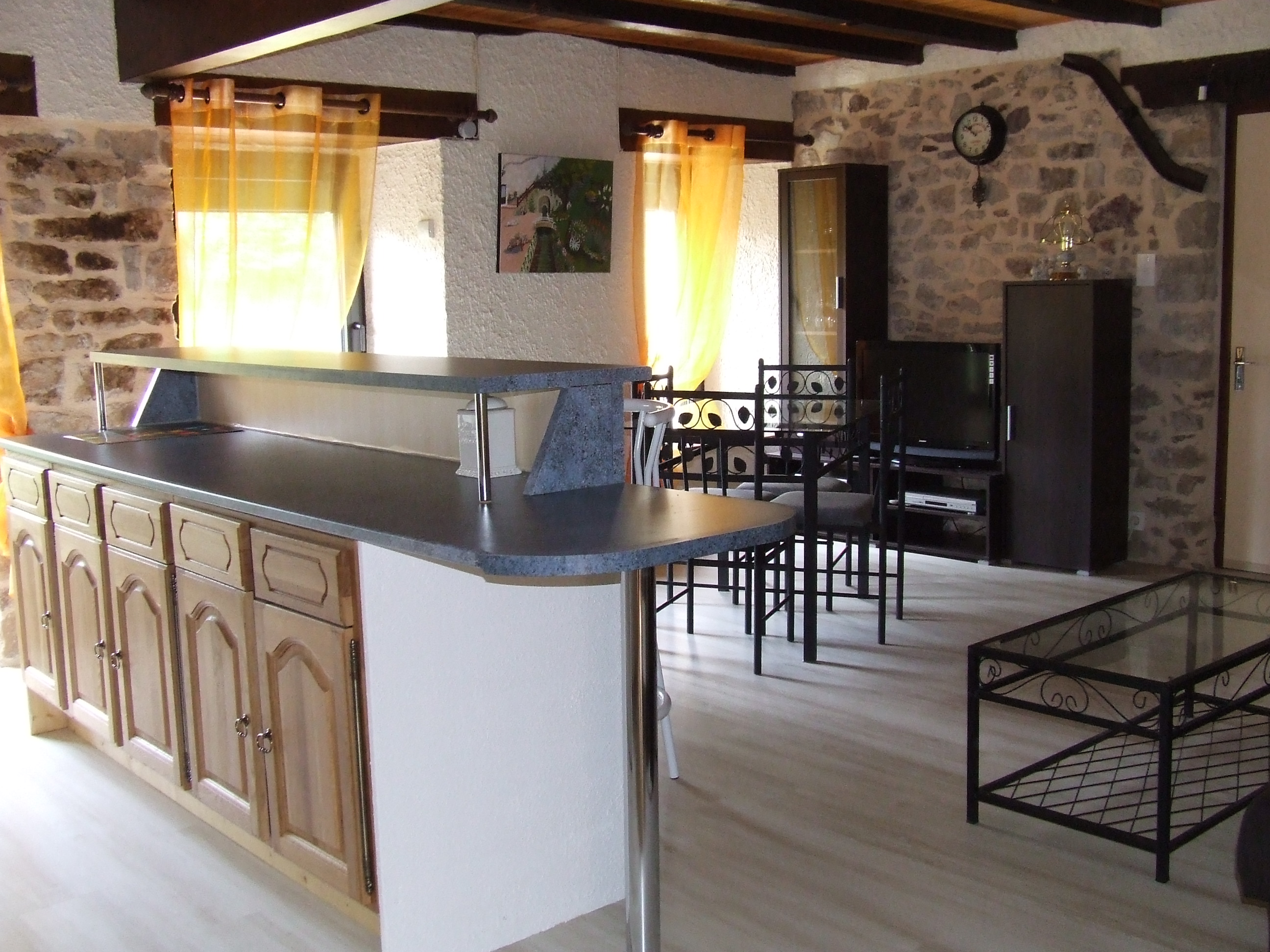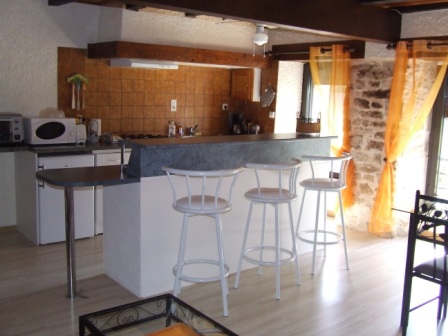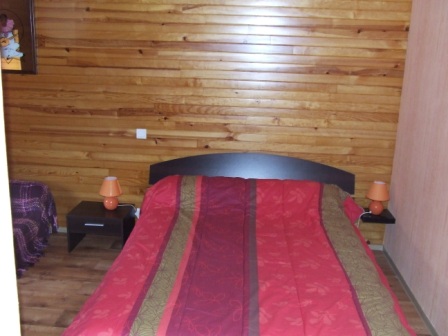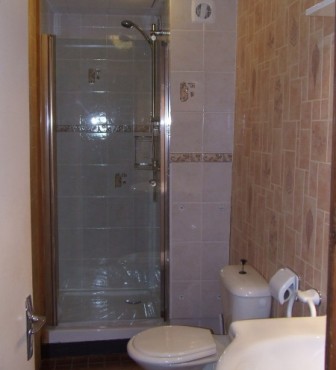 Cottage to accommodate 3 people.
This cottage is located at the road side, on the dam, facing Cavagnac Lake. The entrance to the appartment overlooks the large bright living room. It consists of a fully equipped kitchen with refrigerator, oven, dishwasher, microwave, kettle, toaster, kitchen utensils …
How lucky for some to enjoy a nice drink on the small terrace (8m2) over looking Cavagnac lake.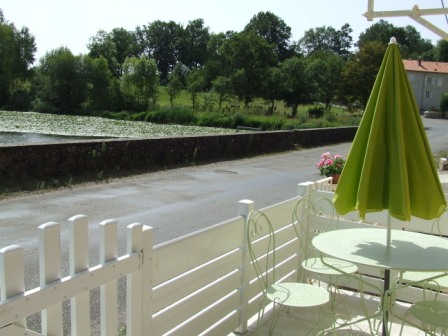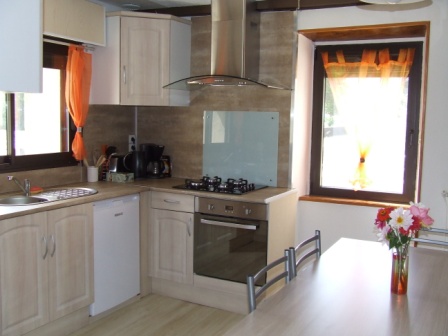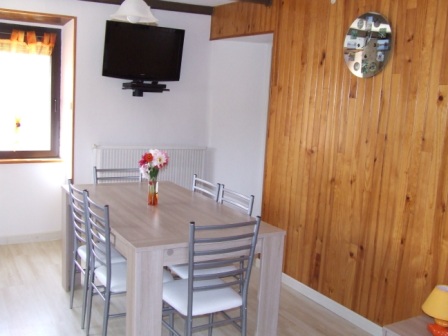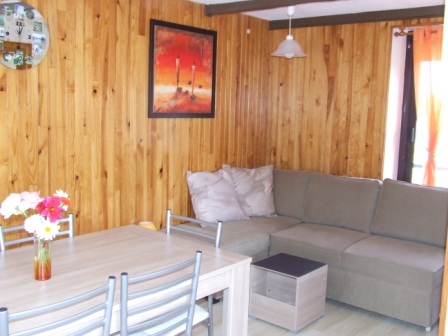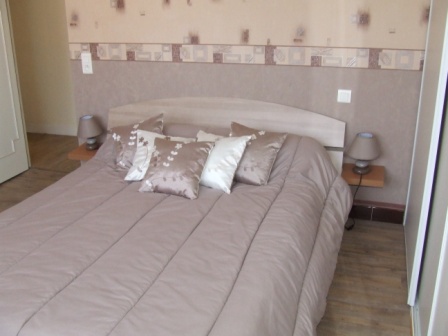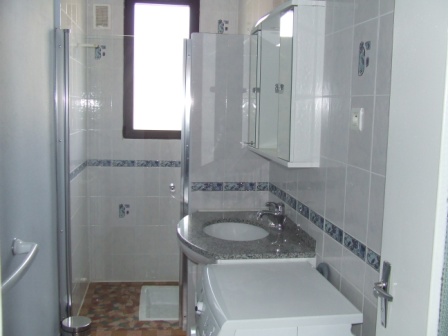 Facilities available to you and your family.
A magnificant garden well looked after and a superb secure swimming pool will be shared with the owners and vacationers. (Dimension Pool 9m x 3.80 m Depth 0.90 m to 1.75 m).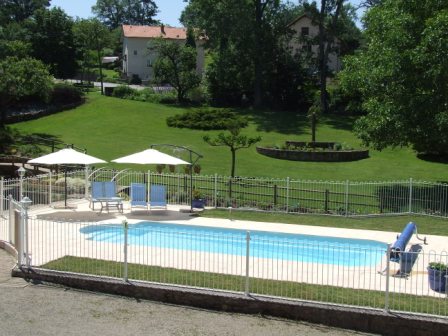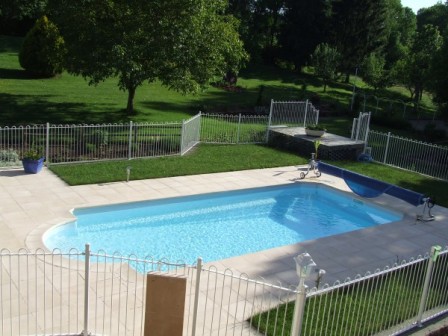 The geographic location of Bournazel is an ideal base for exploring our beautiful state, and even more:
The Cantal and the Lot Valley are nearby.
Sites to visit:
Cavagnac lake (30 seconds, just up the road)
Bournazel (2min): The Renaissance Castle,
Belcastel (15min): One of the most beautiful villages in France
Cransac (15min): Spa
Peyrusse Roc (20min): The Ruins
Pradinas (35min): Animal Park
Rodez (30min): Head of the department
Conques (35min): The treasure
St Cirq Lapopie (1:10): A major site of the Lot Valley
« Micropolis and the City of Insects » in St Leonards (1:20)
Dam St-Etienne Cantalès (1:30)
Aubrac plateau and the village of Laguiole (1:40)
Millau (1h40): Viaduct
Roquefort (2h): Caves to visit
Contact: delphine.calvet12@orange.fr